Bounce bar 4 from Kelly Chee on Vimeo.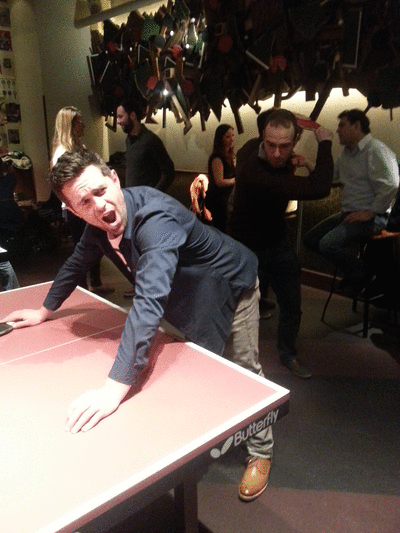 picasion
This year is a biggie for Scott - he turns 30 and he is no-likey it. The only way to do it is to have a big party and accept the big 3-0 in as drunken a state as possible. The meticulous planning for the birthday weekend party starts in earnest about a month before. We considered various types of venues before settling for Bounce. We have never been ourselves but we have only heard good things about the place...the fun factor, cocktails, pizza and crucially, its ability to cater for a big group of 20.
We were completely bowled over by Bounce!! The walk down the stairs to the bar adds to the anticipation; the size of the venue opens up and the energy and atmosphere are so infectious! It really got us going...we were impatient to get to our table and start playing.
Back in high school, Scott and his friends used to play table tennis against each other during break time and the competitive streak and the odd swift moves returned pronto. Before long, buttons are undone, jackets taken off and the sweat beads start forming. This is serious stuff. We girls stayed by the sideline watching out for stray balls that came flying from all directions! At one point, Scott went in for a big hit and the ball went askew and hit a random girl right in her eye! All in good humour though...you kinda expect to get hit and thankfully ping pong balls tend not to cause too much harm (I can verify that as I got smack right in the head the minute I walked into the venue :P).
But the strong cocktails soon took effect (as per the last picture!) and we ended the night in the Adventure Bar in Covent Garden. It got messy in the Adventure Bar...too many Jagerbombs later, the pictures ain't pretty or appropriate to share but the birthday boy is happy, very happy.
The party continued the following day in a pub to watch the Six Nations Scotland vs. Ireland match. The weekend ended on a high note for Scott - Scotland won the match and his beloved Ayr United won 1-0 too. The birthday boy is very happy indeed.